We've had a lot of our cookware for a long time. As we talk about on our page of Essential Cookware, we use our two-quart pot quite a bit. I've had this pot since I first left for college (it's perfect for ramen) and while it was made by Wearever, it finally wore out. The handle just completely broke off.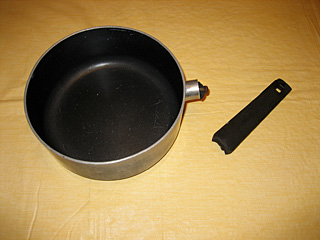 This was a big deal to us because there are a number of meals that we cook that require multiple pots and pans, and we were quite used to having a two-quart pot on hand. We were pretty sure we didn't need a non-stick pot again–at least not for the types of things we cooked. We also wanted something that's dishwasher safe. We didn't know what brand to get. We briefly considered All-Clad. Everyone who has commented on All-Clad says how it's worth the money, but we couldn't justify almost $100 for a single pot. Our second choice was Calphalon, and since Agnes was making a trip to Target for some other things, we ended up with the Calphalon Kitchen Essentials two-quart saucepan.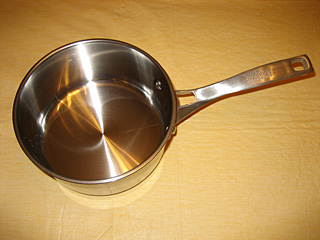 It's a pretty hefty pot. It's all aluminum, but the handle itself mostly stays cool. I say "mostly" because our gas stove has a high enough setting that the flames lick up the sides of the pot and sometimes it gets a little bit warm. That was probably what did in our original Wearever pot. The only complaint I have about it is that the handle to the lid doesn't stay cool. When we use the lid, we have to use a potholder or dish towel when lifting the lid. I'd call it a design flaw, but it's something we can deal with.
We have one more picture of our two pots, side-by-side.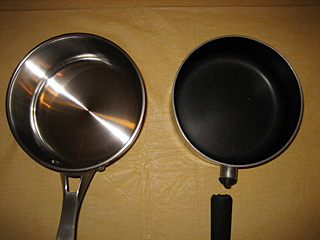 While the angle of the picture makes the Calphalon pot look larger, it's actually a little smaller and taller than our original pot. I haven't quite gotten around to throwing away our original pot, but I suppose I should some day.